Modern Resume
Simple BCom Fresher Sample Template Resume
BCom Fresher
Bcomsimple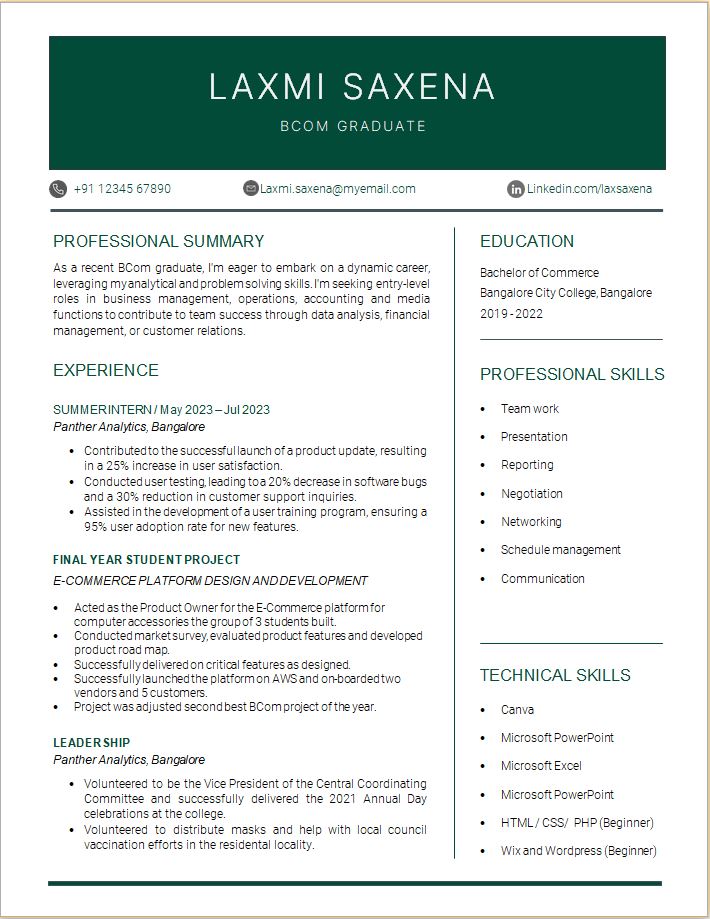 Objective
As a recent BCom graduate, I'm eager to embark on a dynamic career, leveraging my analytical and problem solving skills. I'm seeking entry-level roles in business management, operations, accounting and media functions to contribute to team success through data analysis, financial management, or customer relations.
Education
BCom, BCA, BBA, BSc, BA
Skills
Professional Skills

• Team work
• Presentation
• Reporting
• Negotiation
• Networking
• Schedule management
• Communication

Technical Skills

• Canva
• Microsoft PowerPoint
• Microsoft Excel
• Microsoft PowerPoint
• HTML / CSS/ PHP (Beginner)
• Wix and Wordpress (Beginner)
Interests/Hobbies
For a fresh BCom (Bachelor of Commerce) graduate, it's essential to showcase both your relevant skills and hobbies that can help demonstrate your qualifications, character, and interests.

Here are some skills and hobbies you can consider including:

Relevant Skills:

Financial Analysis: Highlight your ability to analyze financial data, conduct financial forecasting, and assess the financial health of businesses.

Accounting: Mention your knowledge of accounting principles, proficiency in software like Excel, and any relevant coursework or certifications (e.g., CPA, ACCA).

Data Analysis: Showcase your skills in data manipulation, statistical analysis, and data visualization, which can be valuable in various business roles.

Communication Skills: Emphasize your ability to communicate effectively, both verbally and in writing, as this is crucial in many business functions.

Teamwork: Discuss your experience collaborating with others on group projects, extracurricular activities, or internships.

Time Management: Highlight your ability to meet deadlines and effectively manage your time, a critical skill in the business world.

Problem Solving: Provide examples of situations where you've successfully solved complex problems or made decisions in a structured manner.

Research Skills: Mention your proficiency in conducting market research, competitor analysis, and industry research.

Microsoft Office Suite: Note your proficiency in using software like Word, Excel, and PowerPoint, which are commonly used in business environments.

Adaptability: Demonstrate your ability to learn new skills and adapt to changing situations, showing that you're ready for the dynamic nature of the business world.

Relevant Hobbies and Interests:

Volunteer Work: If you have volunteered for organizations or causes related to business or finance, this can demonstrate your commitment to making a positive impact.

Entrepreneurship: Mention any personal entrepreneurial ventures, even if they were small, to show your initiative and business acumen.

Finance Clubs: If you were part of finance or investment clubs in college, this can indicate your interest in the field.

Stock Market Investing: If you have an active interest in investing or trading, you can mention it, as it relates to finance.

Business Publications: If you enjoy reading financial news, business books, or industry journals, it can showcase your industry knowledge.

Leadership Roles: Any leadership roles in student organizations or clubs can demonstrate your ability to take initiative and lead others.

Travel: International travel or living abroad can demonstrate your cultural awareness and adaptability, which can be valuable in a global business environment.

Sports and Fitness: Participation in sports or fitness activities can reflect discipline, teamwork, and a commitment to a healthy lifestyle.

Creative Hobbies: Creative hobbies like writing, photography, or graphic design can show your ability to think creatively and outside the box.

Languages: Mention any foreign languages you speak or are learning, as this can be a valuable skill in the global business world.

Remember to tailor your resume to the specific job you're applying for and highlight the skills and hobbies that are most relevant to the position. Additionally, provide specific examples and achievements that demonstrate how you've applied these skills and interests in real-world situations.
Additional Inputs
This template has a few modern fonts embedded. You do not need to download any of these fonts separately. We have taken care of them. Just download the template and edit as you need. Let us know if you cannot see the same fonts on your template after downloading for whatever reason and we will help you fix it quickly.