Modern Resume
BCom Freshers Sample Resume
BCom Trainee Intern
BcomG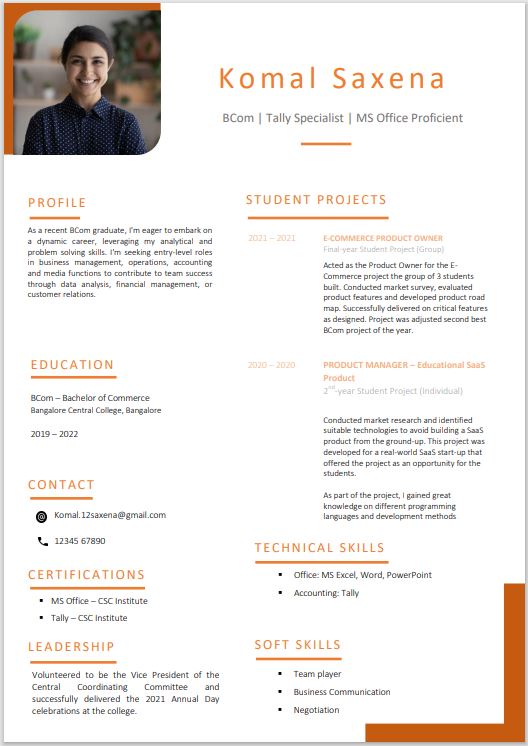 Objective
As a recent BCom graduate, I'm eager to embark on
a dynamic career, leveraging my analytical and
problem solving skills. I'm seeking entry-level roles
in business management, operations, accounting
and media functions to contribute to team success
through data analysis, financial management, or
customer relations.
Education
BCom - Bachelor of Commerce
Skills
Soft Skills:

Communication Skills:
Effective verbal and written communication to convey complex ideas clearly.

Problem-Solving:
Analytical thinking to identify and resolve issues efficiently.

Teamwork:
Collaborating with diverse teams to achieve common goals.

Adaptability:
Quickly adjusting to changing business environments and demands.

Time Management:
Efficiently organizing tasks and meeting deadlines.

Technical Skills:

Financial Analysis:
Proficiency in assessing financial data and making informed recommendations.

Microsoft Excel:
Advanced skills in Excel for data analysis, modeling, and reporting.

Accounting Software:
Familiarity with accounting software like QuickBooks or SAP.

Data Management:
Managing, organizing, and extracting insights from large datasets.

Market Research:
Conducting market research and analyzing data for strategic decision-making.
Projects
Sample project ideas for BCom Students

Project 1. Financial Analysis of a Small Business:

Project Description:
Undertake a comprehensive financial analysis of a small local business. This analysis could include creating financial statements, conducting a ratio analysis, assessing cash flow, and making recommendations for financial improvements.

Skills Demonstrated:

Financial Analysis: Showcase your ability to analyze financial data and draw meaningful conclusions.
Accounting: Apply accounting principles to prepare financial statements.
Data Interpretation: Interpret financial ratios and metrics to assess the business's health.
Business Communication: Prepare a clear and concise report to communicate your findings and recommendations.

Project 2. E-commerce Website for a Local Vendor:

Project Description:
Collaborate with a local vendor to create an e-commerce website for their products or services. This project could involve designing the website, setting up payment gateways, and implementing inventory management features.

Skills Demonstrated:

Web Development: Develop and design a functional e-commerce website.
Digital Marketing: Implement online marketing strategies to promote the website.
Customer Relationship Management: Manage customer inquiries, orders, and feedback.
Entrepreneurship: Showcase your ability to identify business opportunities and execute a project.


These projects can help you demonstrate your practical skills, problem-solving abilities, and your capacity to apply financial and business concepts to real-world situations, making you a valuable candidate for entry-level positions in various industries.
Interests/Hobbies
Photography:
Capturing moments and scenes creatively to develop an eye for detail.

Volunteering:
Contributing time and skills to social causes or community organizations.

Foreign Languages :
Expanding your linguistic abilities to enhance cross-cultural communication.

Yoga, Wellness and Meditation:
Practicing mindfulness and maintaining physical and mental well-being.

Blogging:
Sharing expertise or interests through writing, building content creation skills.
Additional Inputs
BCom is one of the most versatile degrees to pursue in the modern business world as BCom degree holders possess a variety of business management and technical skills; hence, the business world expects the BCom graduates to bring in an array of technical skills. The most important of those technical skills is Microsoft Excel, primarily due to its wide-ranging applications in various business and financial roles.

Here's why you should consider developing your Excel skills if you are about to graduate or recently graduate and looking for your first job opportunity:

Data Management: Excel helps you efficiently manage and manipulate large sets of data, which is a fundamental aspect of financial analysis, accounting, and business operations.

Financial Analysis: Excel's built-in financial functions and formulas enable you to perform complex financial calculations, create financial models, and analyze financial data.

Budgeting and Forecasting: Excel is commonly used for budget preparation, forecasting, and financial planning, making it a valuable tool for roles in finance and accounting.

Data Visualization: Excel allows you to create charts and graphs to visually represent data, aiding in data interpretation and presentation.

Automation: Learning Excel macros and automation tools can significantly improve your efficiency by automating repetitive tasks and reports.

Problem Solving: Excel's problem-solving capabilities are relevant in various areas, such as cost analysis, investment evaluation, and inventory management.

Free resources to learn Excel

We want to provide you with these 5 Free Resources to Learn Excel:

Microsoft Excel's Official Website: Microsoft offers a range of free tutorials and guides on their website, covering Excel basics to advanced features. Microsoft Excel Training

Excel Easy: Excel Easy is an online tutorial platform that provides comprehensive, beginner-friendly tutorials, including examples and exercises. Excel Easy

GCF LearnFree.org: This website offers free tutorials on Excel, suitable for beginners and intermediate learners. It covers various Excel topics with interactive lessons. GCF LearnFree Excel

Chandoo.org: Chandoo.org offers a wide range of Excel tutorials, tips, and templates. They have a dedicated section for beginners and cover advanced topics as well. Chandoo.org Excel Tutorials

YouTube: YouTube is a goldmine of Excel tutorials. Channels like "ExcelIsFun," "MyOnlineTrainingHub," and "Excel Campus" offer a plethora of free videos ranging from basic to advanced Excel skills.

By mastering Excel, you'll not only enhance your employability but also improve your efficiency and accuracy in handling financial data and analysis, which is crucial in various BCom-related roles.