Modern Resume
Modern BBA Fresher MS Word Sample Resume
BBA fresher
modBBA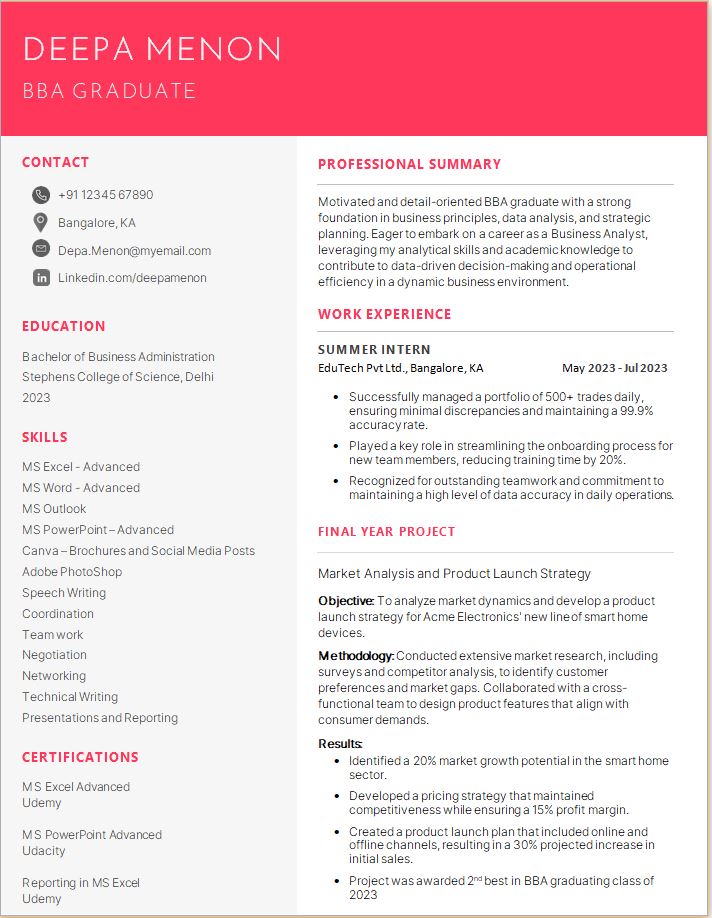 Objective
Motivated and detail-oriented BBA graduate with a strong foundation in business principles, data analysis, and strategic planning. Eager to embark on a career as a Business Analyst, leveraging my analytical skills and academic knowledge to contribute to data-driven decision-making and operational efficiency in a dynamic business environment.
Education
BBA, BCA, BCom, BSc, BA and any other fresh graduate degree holders
Skills
MS Excel - Advanced MS Word - Advanced MS Outlook MS PowerPoint – Advanced Canva – Brochures and Social Media Posts Adobe PhotoShop Speech Writing Coordination Team work Negotiation Networking Technical Writing Presentations and Reporting
Projects
Market Analysis and Product Launch Strategy

Objective:

To analyze market dynamics and develop a product launch strategy for Acme Electronics' new line of smart home devices.

Methodology:

Conducted extensive market research, including surveys and competitor analysis, to identify customer preferences and market gaps. Collaborated with a cross-functional team to design product features that align with consumer demands.

Results:
• Identified a 20% market growth potential in the smart home sector.
• Developed a pricing strategy that maintained competitiveness while ensuring a 15% profit margin.
• Created a product launch plan that included online and offline channels, resulting in a 30% projected increase in initial sales.
• Project was awarded 2nd best in BBA graduating class of 2023
Interests/Hobbies
As a fresh BBA graduate, adding technically-rich hobbies and interests to your resume can demonstrate your commitment to continuous learning and your ability to adapt to the digital age.

Here are some hobbies and interests that can make your resume stand out:

Coding and Programming: If you have basic coding skills or are learning programming languages like Python, JavaScript, or SQL, this can show your technical aptitude.

Data Analysis: If you're interested in data analysis or data visualization tools like Excel, Tableau, or Power BI, it can be a valuable addition.

Web Development: Learning HTML, CSS, or beginner web development skills can demonstrate your interest in the digital realm.

Mobile App Development: If you're experimenting with mobile app development using platforms like Android Studio or Xcode, it's worth mentioning.

Machine Learning or AI: If you're exploring machine learning, artificial intelligence, or deep learning, this can be highly relevant in today's data-driven world.

Cybersecurity: Demonstrating knowledge or interest in cybersecurity basics can show your understanding of digital security.

Database Management: Learning about databases, SQL, or NoSQL can be beneficial for positions involving data.

IT Troubleshooting: If you have hands-on experience with troubleshooting common tech issues, it highlights your practical tech skills.

Blogging or Tech Writing: Writing about tech-related topics on a personal blog or contributing to tech publications can demonstrate your communication and domain knowledge.

Open Source Contributions: If you're involved in open-source projects, mention your contributions and the skills you've gained.

Remember, these hobbies and interests should align with the job you're applying for and reflect genuine engagement. They can help you stand out and show potential employers that you're proactive in developing technical skills.
Experience
SUMMER INTERN
EduTech Pvt Ltd., Bangalore, KA
May 2023 - Jul 2023

• Successfully managed a portfolio of 500+ trades daily, ensuring minimal discrepancies and maintaining a 99.9% accuracy rate.
• Played a key role in streamlining the onboarding process for new team members, reducing training time by 20%.
• Recognized for outstanding teamwork and commitment to maintaining a high level of data accuracy in daily operations.
Additional Inputs
Staying informed about current affairs is an excellent way to prepare for interviews and demonstrate your knowledge. Here are some resources, including podcasts and YouTube channels, that can help you stay up-to-date:

Podcasts:

The Daily (by The New York Times): This podcast provides a deep dive into major news stories and is a great way to start your day well-informed.

BBC Global News: Offering international news and analysis, this podcast keeps you updated on events around the world.

Up First (by NPR): A quick daily news update podcast that covers the most important stories in just a few minutes.

The Economist Radio: Listen to experts discussing international events, politics, economics, and more.

TED Talks: While not a news source, TED Talks often feature speakers discussing current global issues, providing insightful perspectives.

YouTube Channels:

PBS NewsHour: PBS provides in-depth coverage of national and international news.

CNN: CNN's YouTube channel offers news segments, interviews, and analysis.

BBC News: The BBC's YouTube channel is a great source for international news.

The New York Times: Find video reports and news analysis on their YouTube channel.

The Washington Post: This channel provides coverage of politics, national events, and international stories.

Online News Sources:

The New York Times: Stay informed with one of the world's most reputable newspapers.

BBC News: A global source of news and analysis.

The Guardian: Known for its international coverage and in-depth reporting.

NPR News: National Public Radio in the U.S. covers both national and international stories.

Al Jazeera: Offers a different perspective on international events.

Reuters: Known for its fast and reliable news coverage.

Remember to choose resources that align with your interests and provide diverse perspectives. Keeping up with current affairs will not only help with interviews but also make you a well-informed individual.