Modern Resume
BBA Entry level positions Resume
BBA fresher
bbaentry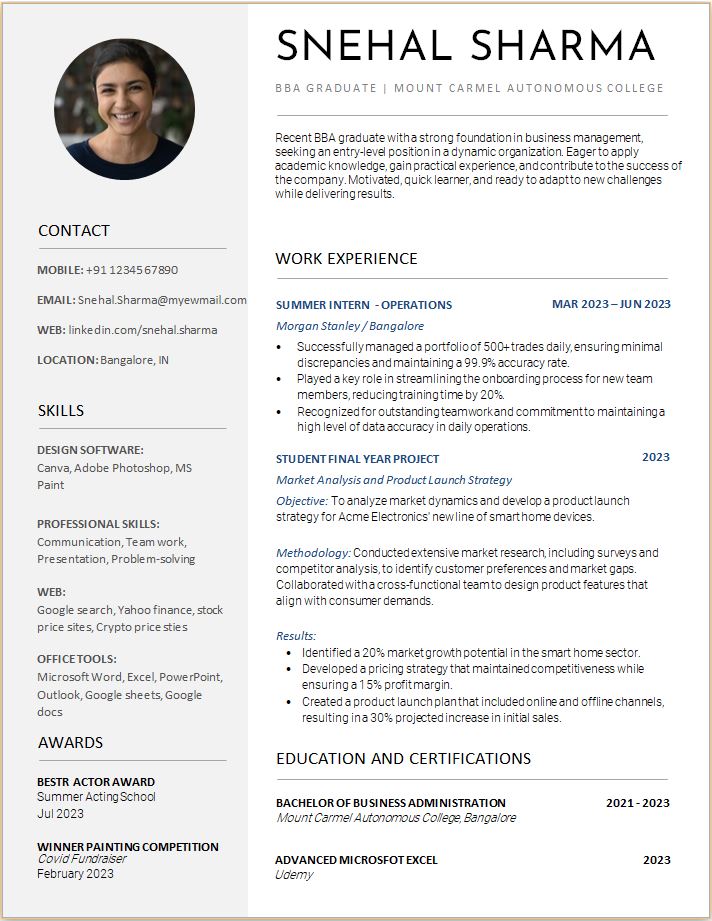 Objective
Recent BBA graduate with a strong foundation in business management, seeking an entry-level position in a dynamic organization. Eager to apply academic knowledge, gain practical experience, and contribute to the success of the company. Motivated, quick learner, and ready to adapt to new challenges while delivering results.
Education
BBA, BCA, BCom, BSc, MA
Skills
OFFICE TOOLS: Microsoft Word, Excel, PowerPoint, Outlook, Google sheets, Google docs

WEB: Google search, Yahoo finance, stock price sites, Crypto price sties

PROFESSIONAL SKILLS: Communication, Team work, Presentation, Problem-solving

PRESENTATION AND DESIGN SOFTWARE: Canva, Adobe Photoshop, MS Paint
Projects
Mb>STUDENT FINAL YEAR PROJECT

Market Analysis and Product Launch Strategy

Objective:
To analyze market dynamics and develop a product launch strategy for Acme Electronics' new line of smart home devices.

Methodology:
Conducted extensive market research, including surveys and competitor analysis, to identify customer preferences and market gaps. Collaborated with a cross-functional team to design product features that align with consumer demands.

Results:
• Identified a 20% market growth potential in the smart home sector.
• Developed a pricing strategy that maintained competitiveness while ensuring a 15% profit margin.
• Created a product launch plan that included online and offline channels, resulting in a 30% projected increase in initial sales.
Experience
SUMMER INTERN - OPERATIONS
MAR 2023 – JUN 2023

• Successfully managed a portfolio of 500+ trades daily, ensuring minimal discrepancies and maintaining a 99.9% accuracy rate.
• Played a key role in streamlining the onboarding process for new team members, reducing training time by 20%.
• Recognized for outstanding teamwork and commitment to maintaining a high level of data accuracy in daily operations.