Modern Resume
MBA Program Manager Resume
Global Program Manager
bbaprog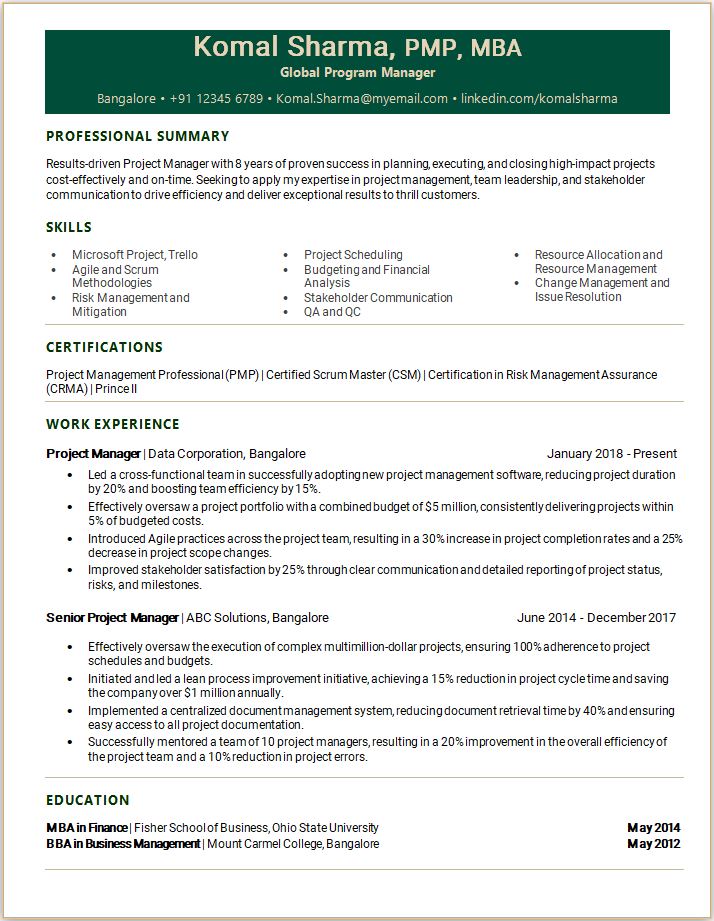 Objective
Results-driven Project Manager with 8 years of proven success in planning, executing, and closing high-impact projects cost-effectively and on-time. Seeking to apply my expertise in project management, team leadership, and stakeholder communication to drive efficiency and deliver exceptional results to thrill customers.
Skills
• Microsoft Project, Trello
• Agile and Scrum Methodologies
• Risk Management and Mitigation
• Project Scheduling
• Budgeting and Financial Analysis
• Stakeholder Communication
• QA and QC
• Resource Allocation and Resource Management
• Change Management and Issue Resolution
Interests/Hobbies
This template can be easily stretched to two-page format. If you have any challenges in making this template to a two page format, let us know and we will help you.

If you want to add interests and hobbies, please consider these below for a program or project manager resume.

Project Management Workshops:

Demonstrates your passion for continuous learning and professional development in the field of program and project management.

Volunteer Work:

Volunteering in project management-related roles or for organizations can highlight your commitment to community and your expertise in managing various initiatives.

Team Sports:

Participation in team sports like soccer or basketball can showcase your teamwork, leadership, and organizational skills, which are valuable for program management.

Travel:

Traveling and experiencing different cultures can demonstrate adaptability, cross-cultural communication skills, and the ability to manage global programs.

Public Speaking:

If you enjoy public speaking or belong to a toastmasters club, it can highlight your strong communication and presentation skills, crucial for program management roles.
Experience
Project Manager | Data Corporation, Bangalore January 2018 - Present

• Led a cross-functional team in successfully adopting new project management software, reducing project duration by 20% and boosting team efficiency by 15%.
• Effectively oversaw a project portfolio with a combined budget of $5 million, consistently delivering projects within 5% of budgeted costs.
• Introduced Agile practices across the project team, resulting in a 30% increase in project completion rates and a 25% decrease in project scope changes.
• Improved stakeholder satisfaction by 25% through clear communication and detailed reporting of project status, risks, and milestones.

Senior Project Manager | ABC Solutions, Bangalore June 2014 - December 2017

• Effectively oversaw the execution of complex multimillion-dollar projects, ensuring 100% adherence to project schedules and budgets.
• Initiated and led a lean process improvement initiative, achieving a 15% reduction in project cycle time and saving the company over $1 million annually.
• Implemented a centralized document management system, reducing document retrieval time by 40% and ensuring easy access to all project documentation.
• Successfully mentored a team of 10 project managers, resulting in a 20% improvement in the overall efficiency of the project team and a 10% reduction in project errors.