Modern Resume
Experienced Business Analyst Sample Resume
Business Analyst Resume
BusinessAnalyst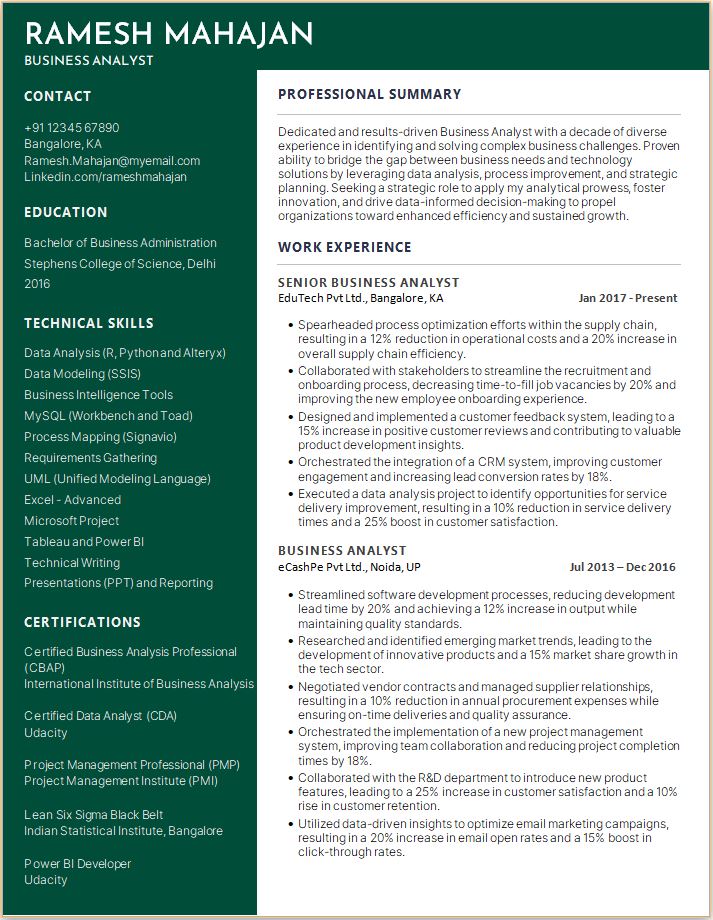 Objective
Experienced Business Analyst with a decade of demonstrated success in tackling intricate business issues. Proficient in bridging business requirements and technology solutions through data analysis, process enhancement, and strategic insights. Seeking a strategic position to leverage my analytical skills, foster innovation, and steer organizations toward increased efficiency and enduring growth by making data-driven decisions.
Education
BBA, BE, BCom, MCA, MBA
Skills
Data Analysis (R, Python and Alteryx)
Data Modeling (SSIS)
Business Intelligence Tools
MySQL (Workbench and Toad)
Process Mapping (Signavio)
Requirements Gathering
UML (Unified Modeling Language)
Excel - Advanced
Microsoft Project
Tableau and Power BI
Technical Writing
Presentations (PPT) and Reporting
Projects
BUSINESS ANALYST
eCashPe Pvt Ltd., Noida, UP Jul 2013 – Dec 2016

• Streamlined software development processes, reducing development lead time by 20% and achieving a 12% increase in output while maintaining quality standards.
• Researched and identified emerging market trends, leading to the development of innovative products and a 15% market share growth in the tech sector.
• Negotiated vendor contracts and managed supplier relationships, resulting in a 10% reduction in annual procurement expenses while ensuring on-time deliveries and quality assurance.
• Orchestrated the implementation of a new project management system, improving team collaboration and reducing project completion times by 18%.
• Collaborated with the R&D department to introduce new product features, leading to a 25% increase in customer satisfaction and a 10% rise in customer retention.
• Utilized data-driven insights to optimize email marketing campaigns, resulting in a 20% increase
Experience
SENIOR BUSINESS ANALYST
EduTech Pvt Ltd., Bangalore, KA Jan 2017 - Present

• Spearheaded process optimization efforts within the supply chain, resulting in a 12% reduction in operational costs and a 20% increase in overall supply chain efficiency.
• Collaborated with stakeholders to streamline the recruitment and onboarding process, decreasing time-to-fill job vacancies by 20% and improving the new employee onboarding experience.
• Designed and implemented a customer feedback system, leading to a 15% increase in positive customer reviews and contributing to valuable product development insights.
• Orchestrated the integration of a CRM system, improving customer engagement and increasing lead conversion rates by 18%.
• Executed a data analysis project to identify opportunities for service delivery improvement, resulting in a 10% reduction in service delivery times and a 25% boost in customer satisfaction.
Additional Inputs
CERTIFICATIONS

Certified Business Analysis Professional
(CBAP)
International Institute of Business Analysis

Certified Data Analyst (CDA)
Udacity

Project Management Professional (PMP)
Project Management Institute (PMI)

Lean Six Sigma Black Belt
Indian Statistical Institute, Bangalore

Power BI Developer
Udacity

Why this template works
There are some very impactful podcasts that you can listen to if you are an aspiring Business Analyst, especially if you are someone in another domain/field and are actively considering becoming a Business Analyst. Here is a list of impactful podcasts that we have compiled.

"Data Skeptic":

Benefit: This podcast delves into data science and analytics concepts, making it a valuable resource for business analysts looking to enhance their data analysis skills.

"The Analysts Journey":

Benefit: This podcast is specifically tailored to data analysts, data scientists, and business analysts. It provides insights into career development, skill-building, and industry trends.

"Freakonomics Radio":

Benefit: This podcast explores the hidden aspects of everyday life and economics. Listening to it can help business analysts develop a more well-rounded perspective on decision-making and data analysis.

"The McKinsey Podcast":

Benefit: Produced by the renowned management consulting firm McKinsey & Company, this podcast provides valuable insights into business strategy, analytics, and problem-solving.

"The Digital Analytics Power Hour":

Benefit: Focused on digital analytics and data-driven decision-making, this podcast is perfect for business analysts involved in online and e-commerce businesses.

Listening to these podcasts can help you gain valuable insights, stay updated on industry trends, and improve your analytical and problem-solving skills. You should be able to find these easily on all popular podcast platforms, or just simply google.