Modern Resume
BTech Intern Sample Template Resume
Software Engineering Intern
Interntemp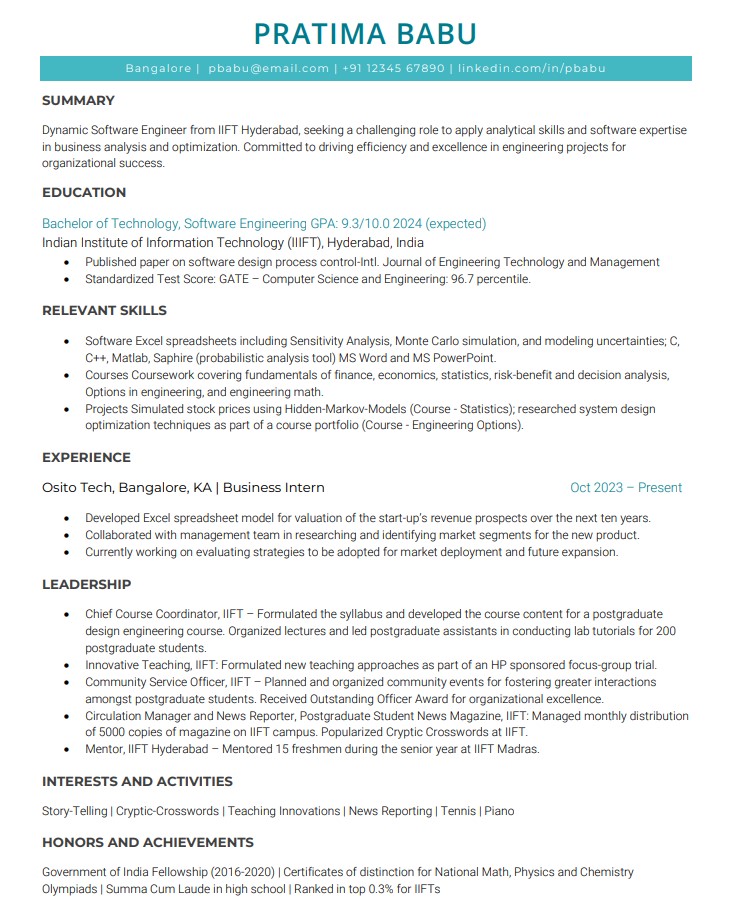 Objective
Dynamic Software Engineer from IIFT Hyderabad, seeking a challenging role to apply analytical skills and software expertise in business analysis and optimization. Committed to driving efficiency and excellence in engineering projects for organizational success.
Education
BTech Software Engineering
Skills
• Software Excel spreadsheets including Sensitivity Analysis, Monte Carlo simulation, and modeling uncertainties; C, C++, Matlab, Saphire (probabilistic analysis tool) MS Word and MS PowerPoint.

• Courses Coursework covering fundamentals of finance, economics, statistics, risk-benefit and decision analysis, Options in engineering, and engineering math.

• Projects Simulated stock prices using Hidden-Markov-Models (Course - Statistics); researched system design optimization techniques as part of a course portfolio (Course - Engineering Options).
Interests/Hobbies
Story-Telling | Cryptic-Crosswords | Teaching Innovations | News Reporting | Tennis | Piano
Experience
Osito Tech, Bangalore, KA | Business Intern | Oct 2023 – Present


• Developed Excel spreadsheet model for valuation of the start-up's revenue prospects over the next ten years.
• Collaborated with management team in researching and identifying market segments for the new product.
• Currently working on evaluating strategies to be adopted for market deployment and future expansion.


LEADERSHIP
• Chief Course Coordinator, IIFT – Formulated the syllabus and developed the course content for a postgraduate design engineering course. Organized lectures and led postgraduate assistants in conducting lab tutorials for 200 postgraduate students.
• Innovative Teaching, IIFT: Formulated new teaching approaches as part of an HP sponsored focus-group trial.
• Community Service Officer, IIFT – Planned and organized community events for fostering greater interactions amongst postgraduate students. Received Outstanding Officer Award for organizational excellence.
• Circulation Manager and News Reporter, Postgraduate Student News Magazine, IIFT: Managed monthly distribution of 5000 copies of magazine on IIFT campus. Popularized Cryptic Crosswords at IIFT.
• Mentor, IIFT Hyderabad – Mentored 15 freshmen during the senior year at IIFT Hyderabad.
Additional Inputs
As a recent graduate, showcasing leadership qualities on your resume is crucial to stand out in the competitive job market and demonstrate your potential value to employers. Here's why and how you can effectively highlight your leadership skills:

Importance:

Competitive Edge: Employers value graduates who exhibit leadership potential. It sets you apart from other candidates and suggests that you can take on responsibilities beyond your basic job duties.

Team Collaboration: Many entry-level positions involve working within a team. Demonstrating leadership skills signals to employers that you can collaborate effectively and contribute positively to a team environment.

Problem-Solving: Leadership often involves making decisions and solving problems. By showcasing leadership qualities, you convey your ability to handle challenges and make thoughtful decisions, a valuable asset to any organization.

How to Showcase Leadership Qualities:

Internships and Part-Time Jobs: Highlight any leadership experiences during internships or part-time jobs. This could include leading a project, coordinating activities, or mentoring other team members.

Academic Achievements: Showcase leadership roles in academic settings, such as heading a student organization, leading a team project, or organizing events. These experiences demonstrate organizational and leadership skills.

Extracurricular Activities: Mention any positions held in clubs, sports, or volunteer work. Describe responsibilities and achievements to underscore your leadership abilities.

Course Projects: Highlight instances where you took the lead or played a key role in the success of group projects. This demonstrates your ability to collaborate and lead within an academic context.

Problem-Solving and Initiative: Detail instances where you took the initiative to solve a problem or improve a process, whether in coursework, internships, or personal projects.

Communication Skills: Effective communication is a critical aspect of leadership. Share experiences that demonstrate your ability to communicate clearly and persuasively, whether through presentations, writing, or interpersonal interactions.

Tailoring your resume with concrete examples of how you've demonstrated leadership will make you a compelling candidate for potential employers. Remember to quantify achievements wherever possible and align your resume with the specific job requirements for maximum impact.