Modern Resume
Simple Template Resume
Modern Resume Template
modernEx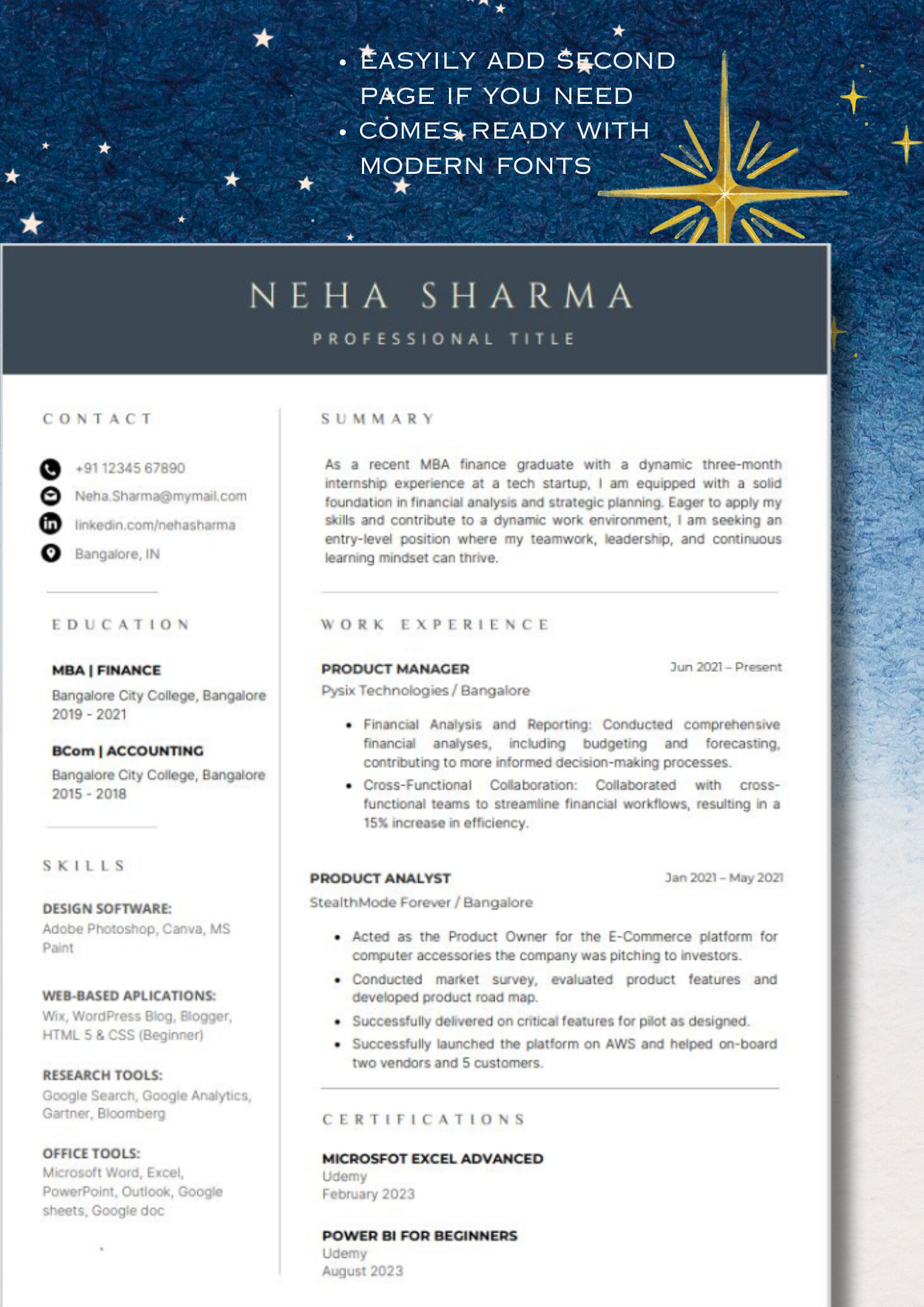 Objective
How to write a compelling career objective statement for your resume

Writing a compelling career objective statement for your resume is essential to make a strong first impression. Here are three key points to consider:

Be Specific and Tailor to the Job:

Clearly state the specific position or type of work you are seeking. Tailor your objective to match the job you're applying for, highlighting how your skills and goals align with the company's needs.

Example: "Dedicated marketing professional seeking a challenging role to leverage my strategic planning and digital marketing skills to drive brand awareness and customer engagement."

Showcase Your Value and Skills:

Highlight your key skills, strengths, and qualifications that make you a valuable candidate for the position. Focus on what you bring to the table and how your unique attributes can benefit the employer.

Example: "Results-driven project manager with a proven track record of delivering complex projects on time and within budget. Proficient in team leadership, risk management, and stakeholder communication."

Demonstrate Your Career Aspirations:

Express your long-term career goals and how the specific job aligns with your professional aspirations. This helps employers understand your motivation and commitment to the role.

Example: "Motivated finance graduate eager to contribute analytical skills and financial expertise in a challenging entry-level role. Seeking a position where I can grow professionally and contribute to the success of a dynamic organization."


Remember to keep your career objective concise, typically within one to two sentences, and avoid generic statements. Tailoring it to the specific job and showcasing your unique value will make your resume objective more impactful.
Education
What qualifications to include on your resume When including educational qualifications on a resume, it's important to focus on relevant information that showcases your academic achievements and demonstrates your suitability for the job. Here are three bullet points to consider:

List Degrees and Certifications Clearly:

Clearly mention your highest level of education, including the degree earned, major (if applicable), and the name of the institution. If you have relevant certifications, include them as well.

Example:

1. "Bachelor of Science in Computer Science, XYZ University, Graduated May 20XX"
2. "Project Management Professional (PMP) Certification, Project Management Institute"

Include Additional Relevant Coursework or Honors:

If you are a recent graduate or have specific coursework that is directly related to the job, consider including relevant courses or academic honors. This can provide additional context about your expertise.

Example:

1. "Relevant Coursework: Data Structures, Algorithms, Database Management"
2. "Dean's List, XYZ University, Academic Years 20XX-20XX"

Consider Including Non-Directly Related Qualifications Strategically:

If you have educational qualifications that are not directly related to the job but demonstrate transferable skills or showcase a well-rounded background, include them strategically. This is especially relevant for entry-level candidates.

Example:

1. "Bachelor of Arts in Communication, XYZ University, Graduated May 20XX (Relevant for roles requiring strong communication skills)"
2. "Certified ScrumMaster, Scrum Alliance (Demonstrates project management and team collaboration skills)"

Should you include Qualifications not directly related to the job?

It depends on the context and this situation is usually common among experienced career-changers.

The advice depends on the stage you are in:

Early in Career: For entry-level candidates, including a diverse educational background can be beneficial to demonstrate a broad skill set.

Later in Career: As you gain more experience, prioritize including qualifications directly relevant to the job. However, if a non-related qualification showcases a valuable skill or achievement, it may still be worth including, but don't be templated to include those that are completely irrelevant.

For example, if you possess a level 2 certification in Radioactive Testing from American Society of Non Destructive Testing from your early career 12 years ago and now you are applying for a Senior Manager Financial Services Operations at JP Morgan, it is probably best to use the limited space on your resume for your more recent accomplishments and leave out the non destructive testing certification unless the test you passed is something that compares to winning a medal at the Olympics. We hope it is clear now.

Always tailor your resume to the specific job you're applying for. If an unrelated qualification doesn't add value or align with the job requirements, it might be best to focus on the most relevant educational information.
Additional Inputs
🚀 Elevate Your Career with Our Modern Resume Templates! 🚀

Are you ready to make a lasting impression in your job search? Our collection of modern and easy-to-read resume templates is designed to help you stand out from the crowd and land your dream job! 🔥

🌟 Why Choose Our Resume Templates?

Contemporary Design:

Our templates feature sleek, modern designs that catch the recruiter's eye. Impress with a visually appealing and professional layout.

Easy to Read:

A recruiter spends an average of 6 seconds reviewing a resume. Our fonts and formatting ensure your key information is easily digestible, increasing your chances of getting noticed.

Versatility for Every Industry:

Whether you're in finance, marketing, IT, or any other industry, our templates are versatile and customizable to suit your professional needs.

Optimized for Applicant Tracking Systems (ATS):

Beat the bots! Our templates are ATS-friendly, ensuring your resume gets through the initial screening process.

Effortless Editing:

Easily customize your resume with your personal information, experience, and skills. Our templates come with step-by-step instructions for hassle-free editing.

💡 How to Get Started:

1. Choose Your Template:

Browse our collection and select the template that best suits your style and industry.

2. Download and Edit:

Download the template instantly and customize it with your details using popular editing software.

3. Stand Out in Your Job Search:

With a professionally designed resume, you'll make a memorable first impression and increase your chances of landing interviews. Good luck!

Why this template works
This templates comes ready with all 6 modern fonts we have used in building this resume. This resume is sure to stand out thanks to its unique concoction of various font styles that gel well together in selling your professional success story like a pro.