Modern Resume
BCA Freshers Sample Resume
BCA fresher
BCAEntry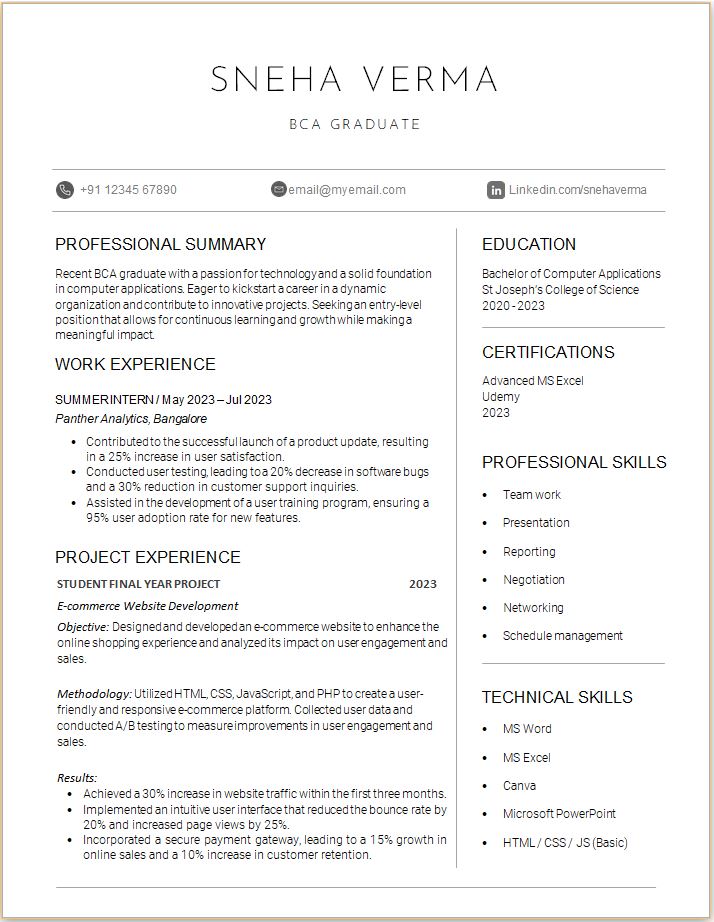 Objective
Recent BCA graduate with a passion for technology and a solid foundation in computer applications. Eager to kickstart a career in a dynamic organization and contribute to innovative projects. Seeking an entry-level position that allows for continuous learning and growth while making a meaningful impact.
Education
BCA, BBA, BCom, BA, BSc, BEd, BLit
Skills
Professional Skills:

• Team work • Presentation • Reporting • Negotiation • Networking • Schedule management

Technical Skills:

• MS Word • MS Excel • Canva • Microsoft PowerPoint • HTML / CSS / JS (Basic)
Projects
STUDENT FINAL YEAR PROJECT

E-commerce Website Development

Objective: Designed and developed an e-commerce website to enhance the online shopping experience and analyzed its impact on user engagement and sales.

Methodology: Utilized HTML, CSS, JavaScript, and PHP to create a user-friendly and responsive e-commerce platform. Collected user data and conducted A/B testing to measure improvements in user engagement and sales.

Results:

• Achieved a 30% increase in website traffic within the first three months.
• Implemented an intuitive user interface that reduced the bounce rate by 20% and increased page views by 25%.
• Incorporated a secure payment gateway, leading to a 15% growth in online sales and a 10% increase in customer retention.
Experience
SUMMER INTERN / May 2023 – Jul 2023
Panther Analytics, Bangalore

• Contributed to the successful launch of a product update, resulting in a 25% increase in user satisfaction.
• Conducted user testing, leading to a 20% decrease in software bugs and a 30% reduction in customer support inquiries.
• Assisted in the development of a user training program, ensuring a 95% user adoption rate for new features.
Additional Inputs
CERTIFICATIONS Advanced MS Excel
Udemy
2023