Classic Resume
BCA Fresher Resume
Trainee Web Developer
BCAlt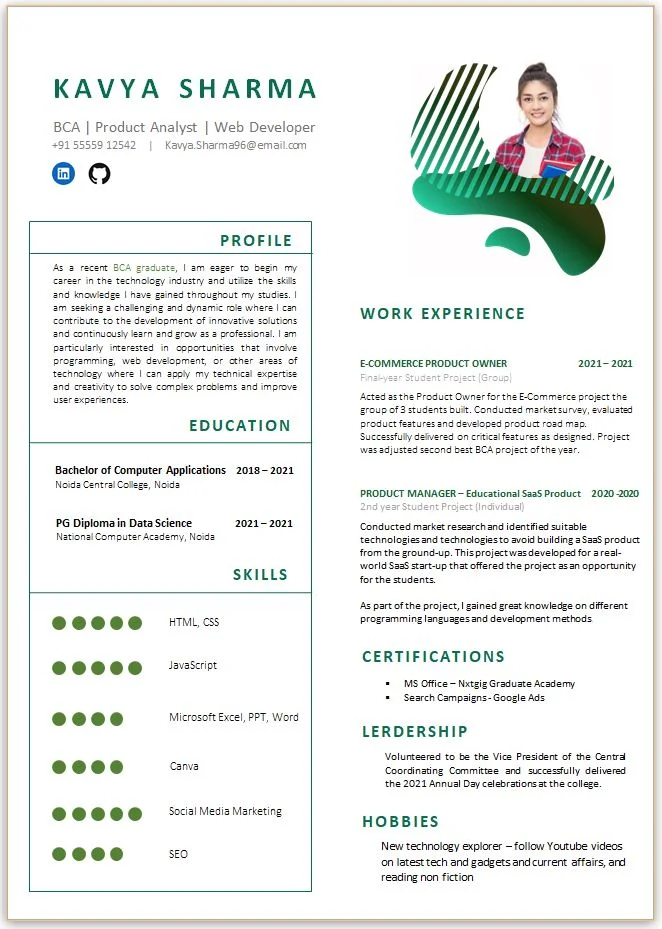 Objective
To secure a challenging role as a web developer in a dynamic organization where I can utilize my programming skills, creativity, and problem-solving abilities to develop innovative web applications and contribute to the growth of the company.
Education
BCA, BBA, BCom - Anyone who is interested in a Web Developer opportunity
Skills
By possessing these tech skills, a web developer, especially a fresh college graduate, can demonstrate their potential value to potential employers and increase their chances of landing a job in the competitive tech industry. HTML, CSS, and JavaScript, Server-side programming languages, Frameworks and libraries, Database management, Version control, Responsive design, Testing and debugging, and Web security
Projects
Fresher project idea 1 - Student Management System: Develop a simple student management system using Python and SQLite. The system can have basic features such as student registration, attendance tracking, grade management, and report generation. The project can demonstrate the student's knowledge of programming concepts, database management, and software development processes.
Interests/Hobbies
Pottery, embroidery, coding and programming projects,Playing video games, Blogging or writing, Music production, Sports or fitness activities are all good hobbies to include.
Experience
Fresher project idea 2 - Simple E-commerce Website: Develop a simple e-commerce website using HTML, CSS, JavaScript, and PHP. The website can have a basic product catalog, a shopping cart, and a checkout process. The project can showcase the student's knowledge of web development technologies and their ability to create a functional e-commerce website.
Additional Inputs
Availability: Include a line in the resume stating that you are available to start work immediately. This can indicate to potential employers that you are ready to hit the ground running and can be a valuable asset to their team.

Flexibility: Mention your flexibility with regards to work hours and willingness to work overtime or on weekends, if required. This can demonstrate your commitment and dedication to the job and show employers that you are a reliable and responsible candidate.

Work authorization: Mention your work authorization status, whether you are a citizen, permanent resident, or have a valid work permit, and are legally eligible to work in the country. This can provide potential employers with confidence that they will not have to wait for visa processing or other legal requirements before you can start working.

No prior commitments: Mention that you do not have any prior commitments that would prevent you from starting work immediately, such as upcoming travel plans or other obligations.

Ready to relocate: If you are open to relocation, mention this in your resume. This can increase your chances of getting hired, especially if the job requires relocation.
Why this template works
This template works best for fresh BCA graduates who would not have had opportunities to pursue internships either because their college didn't have internships as part of the course or the student had a personal situation that prevented them from pursuing internships. Either ways, use this resume template to showcase your student project to demonstrate you possess skillsets relevant to any fresher job opportunities in tech companies. This template works because it highlights the students project experience and the specific skills the student would have gained working on those projects.